Little Leaders Academy
Third Grade Through Pre-Kindergaten
Learning Turned Upside Down
Accepting Applications  for  2024-25 School Year!
We are a St. Louis third grade through pre-kindergarten academy on a mission to develop little leaders and empower them to find their calling. Located near Grants Farm. Our learners are hands-on and creative. They opened a sushi restaurant to learn about Japanese cuisine, dissected owl pellets to learn about the animal kingdom, sculpted mushrooms to learn about the fungi kingdom, and retold the Ruwa Changa God myth to learn about Tanzanian culture. Our learners are excited to learn and explore, and they are always up for a challenge. Our learning lab has a garden where your child can learn about gardening and growing their own food. If you are looking for a learning experience that is both engaging and educational, then our learning community is for you.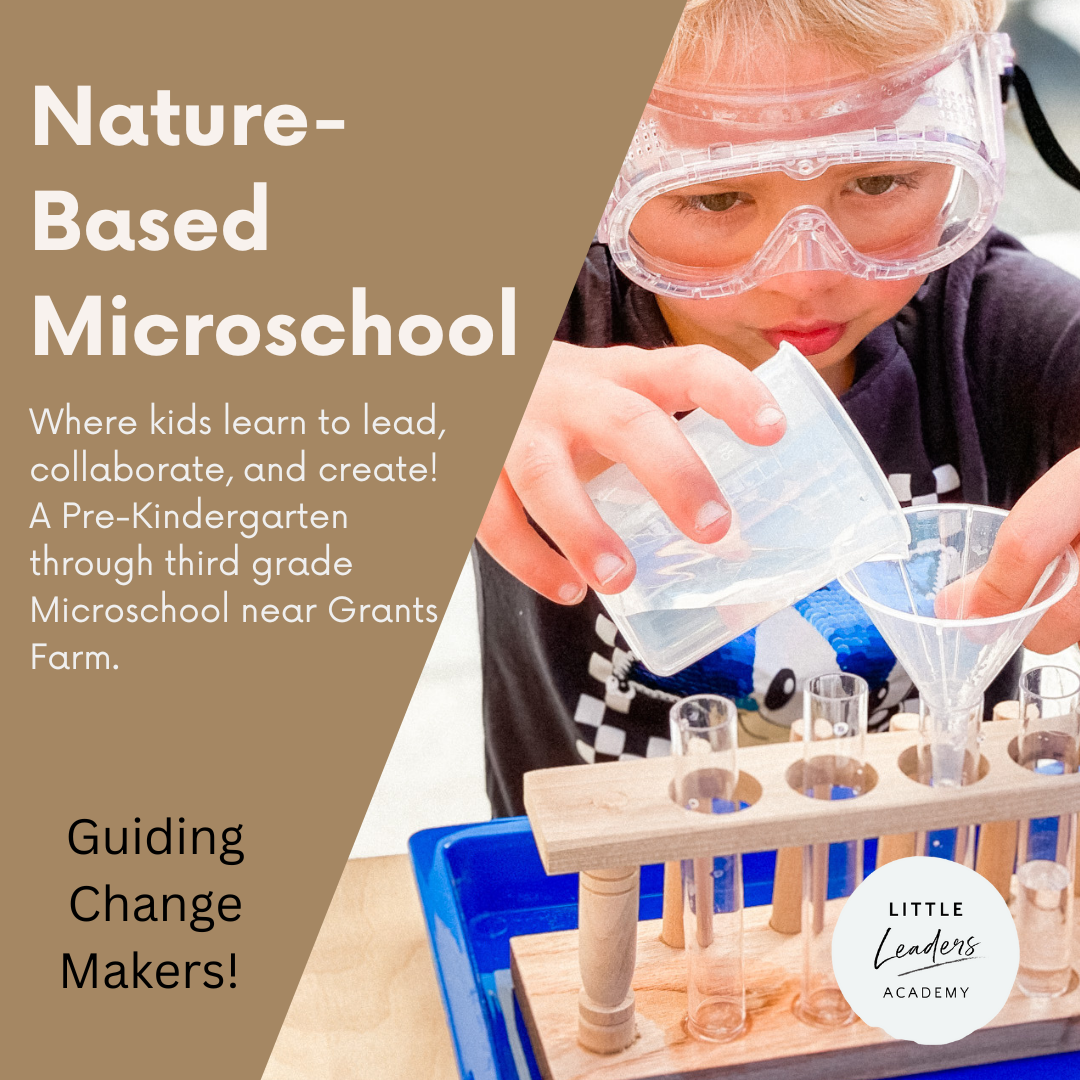 Learn more about our learning experience!
Ignite Your Little Leader…
Developing little leaders becomes so much easier when you understand the habits to develop a growth mindset. As the Owner & Main Guide at Little Leaders Academy, I have mastered the tools and framework to be a healthy leader who can help develop your whole child. 
Join the Little Leaders Academy community and have your child experience a foundation of a growth mindset!
We are on a mission to GUIDE tomorrow's leaders through educating the whole child in their body, mind, relationships, emotions, and academics!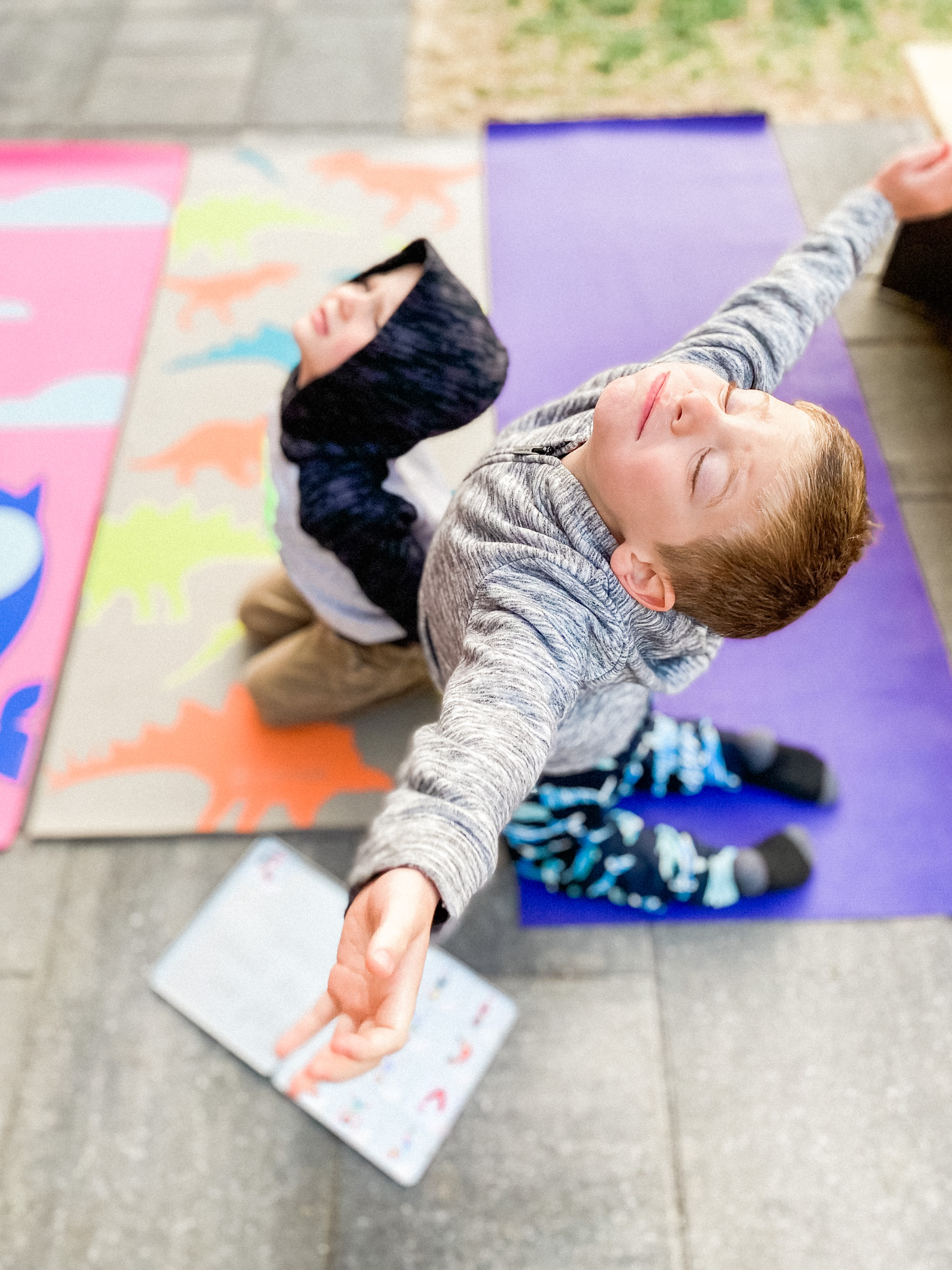 Our Approach
Nature-Based, Montessori, Growth-Mindset and Reggio Emilia Inspired! To develop leaders and empower them to find their hero's journey. We are committed to improving access to place based education, play-based learning, child-led curriculum design, and time spent outdoors.
Our mission to create a community of  families, and learners who are curious about the world, rooted in self, place and others.
Honest Results
"April is an incredible person and skilled leader-educator. She employs patience, mindfulness, nutrition, and nature in her lessons everyday! This isn't just childcare; it's life-changing. She truly is helping us raise a mindful, respectful, healthy, and well-educated child. Her Whole Child Curriculum is engaging, informative, strategic, and fun. I respect and appreciate her so much, and I'm so glad I found her! Our family is so grateful for these years of nature based, whole-child education we have been blessed to experience with April!"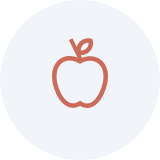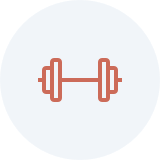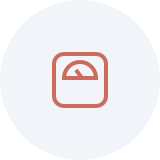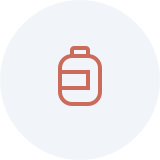 Frequently Asked Questions
More Info About Little Leaders Academy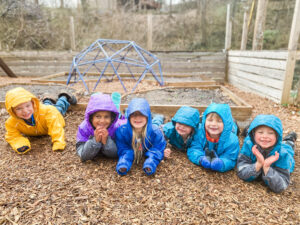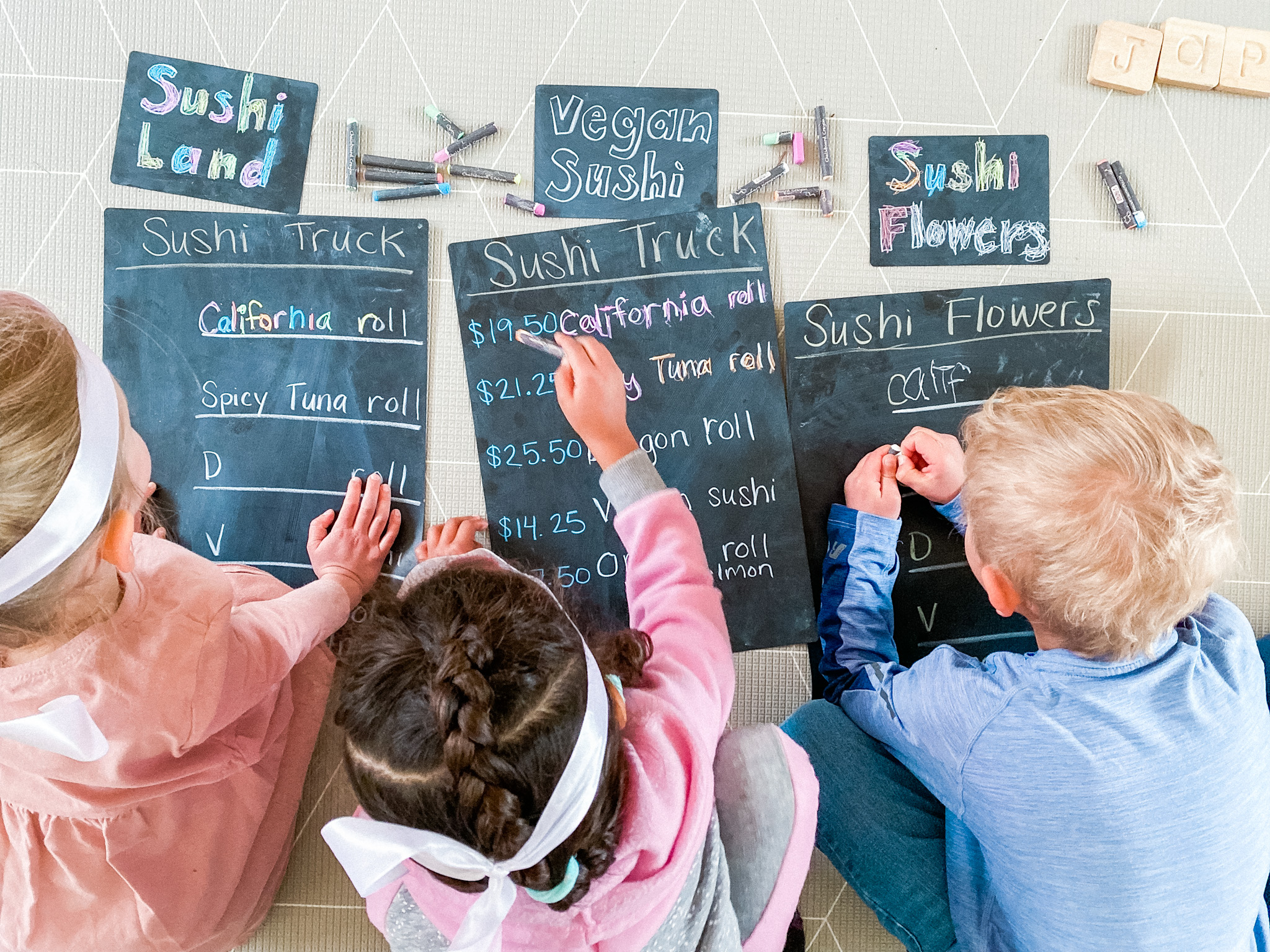 What school calendar do you follow?
Our school year will begin the last week of August, and closely mirrors the Lindbergh Public School system, including the winter vacation weeks.
What are your hours?
Our school runs Monday through Friday, from 8:00am to 3pm. We currently enroll full time learners. There are no part-time spots available.
How much time do you spend outside?
As much as possible! Our classroom is nature. Our program has ample time outdoors, rain or shine, built into the schedule everyday. Outside of that, any and all parts of our day may take place outdoors. With this in mind, proper outdoor gear will be important to ensuring your child has a positive experience learning and playing in the elements. You will be provided with a gear list at the start of each season.
Are you going to add grades beyond first?
We are very open to adding "grades." We have plans to serve students up to high school. In 2024-25 we will serve learners between 5-8 years old.
What is an overview of your approach?
Your child's work is play. From the beautiful, open-ended toys inside to leaves, and stones outside, everything in the environment stands ready to be enlivened by your child's imagination. With the guide's gentle guidance, your child flows through a rhythmic day balanced between free play and structured activities. Children enjoy cultural studies, seasonal ASL songs and rhymes, yoga, STEAM and abundant outdoor play and exploration in all seasons.
As children age through the program, the complexities of projects and tasks deepen and they gradually take on more responsibility in the class. Your child's day is full of delight and discovery as they connect with the educator (guide) and friends, building social-emotional intelligence and resilience while laying the groundwork for literacy, math, science, and critical thinking.
Meet Our Main Guide
April Robert (
Director, Main Guide
)
, has a bachelor's elementary education (ESL endorsement)
who has a passion for outdoor, and mind/body education. Her experience in educating youth extends over various environments, including teaching in schools, homeschooling private families, instructing in a private academy in China and managing her own company for years. April recognizes the value of outdoor time for children to explore, play, and learn through meaningful, inquiry-based, and child-led interactions and experiences. April is an advocate for ongoing learning, positive character development, and youth leadership.
What is a Microschool?
A purposefully small school typically with the following characteristics:
led by a trained/licensed professional or group of professionals
consists of mixed age class or classes with 15 learners or less, guided by the same educator
focused on meaningful, sustainable, whole-child learning
Some other words used to describe a microschool might include one-room schoolhouse, and alternative school.
What is the class size at this Microschool?
Our mixed age classroom has a maximum of 6 learners, providing a teacher-student ratio of 1:6. This small size allows for flexibility in the field, individual attention and the ability to facilitate a safe, flexible, and productive learning community.
Where are you located?
Near Grants Farm in St. Louis, Missouri. We are in the works of opening another location in the St. Louis county.
Will my child be ready to transition to a mainstream school?
As a elementary education bachelor I understand the testing mandates teachers and children are under very well. For this reason, I will always keep in mind the Missouri Essential Knowledge and Skills for each grade level and make sure students are academically ready to transition to a mainstream classroom. Research shows that children who are given ample play time in early childhood actually develop greater capacities for attention.
Do you provide lunches and a snack?
We do provide lunches, and a mid-morning snack. The mid-morning snack is plant-based. The lunch includes a portion of protein, carb and vegetable. When we have fruits and vegetables in season from our Microschool's garden, we will serve them! Children will have water bottles that they keep at school. Lunches sent from home are also welcomed. 
What is a nature-based school?
It is an educational approach that:
Involves regular and repeated access to the same natural environment.

Promotes experiential, inquiry-based, play-based, and place-based learning.

Supports risk management where children learn to work through challenges, experience risk, and learn from mistakes and successes which helps to build self-confidence.

Involves educators playing a facilitator and mentorship role – lead by example, support child interests, learn with the child, provide resources and materials to extend learning, and observe the child's progress.

Involves individual and collaborative learning opportunities.

Allows for the learning experiences to change with the seasons, landscapes, presence of loose materials, who is in attendance, and the child's interests, among other factors.
What are your goals?
Reconnect children with nature through play, inquiry, and exploration

Encourage healthy active living

Promote environmental awareness and appreciation

Develop strong collaboration, communication, and problem-solving skills

Offer low student to adult ratios allowing for mentorship and student-led learning
Enroll Today! 
THE APPLICATION PROCESS FOR LITTLE LEADERS ACADEMY ENROLLMENT WILL BEGIN IN FEBRUARY FOR THE 2024 / 2025 ACADEMIC YEAR.
Email Us
info@aprilmaura.com
Visit Us
St. Louis, Missouri